Turks and Caicos Islands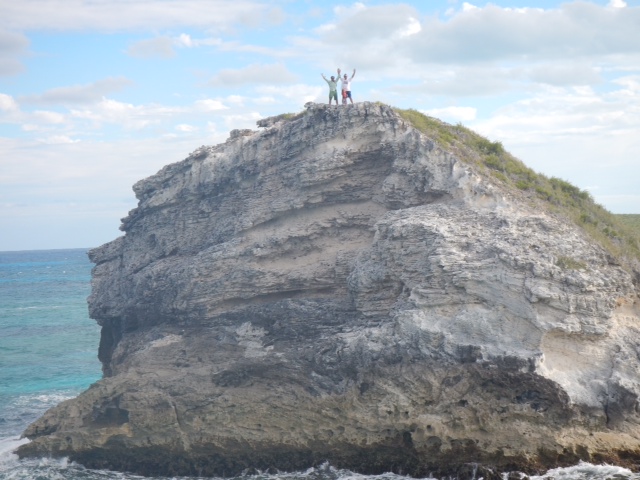 We left Mayaguana at midnight to make the sail to the Turks and Caicos Islands. The winds were certainly not complying with our plans and we ended up motoring some of the way and not anchoring until 5pm on the 6th of March. We landed in Sapodilla Bay off the coast of Providenciales in the Turks and Caicos. We wanted to arrive in TCI on a weekday so it would not cost us more to clear customs on a weekend. Stephen does all our clearing in and checking out as most customs offices just want one person to represent all on the boat clearing in to the country.
After a morning cleaning and checking stuff on the boat we all headed to Sapodilla Bay Beach to enjoy the water and waves and just to get off the boat. We found it was a very nice beach and we met a family on vacation from Canada. Jaxson made several new friends and we stayed and enjoyed the beach and our new friends until the evening.
The next day we all headed into Provo for exploring. As soon as you pass the beach there is Sapodilla Hill where when you get to the top you are rewarded with an excellent view of the island and the nearby Chalk Sound. There are also carvings of the early settlers of the island in the rocks atop the hill dating back to the 1800's. This would be a much nicer spot to hike and see if there had not been trash and graffiti from the last several years. Its really such a shame some people don't have any respect for landmarks.
We continued to explore and came across Las Brisas a restaurant right on the Chalk Sound. Stephen and Natasha had a smoothie but Shawn and I were looking for lunch. We decided to split the Cracken Burger. I must say this was the biggest burger I have ever seen and it easily could have fed 4 people. It was 2 large patties of burger, fried onions, a fried egg, tomatoes, lettuce, and all the usual burger condiments all sandwiched between 2 grilled cheese sandwiches with bacon. It was a monster! We ate on it for 2 days.
We left Sapodilla Bay to head over to the Blue Haven Marina where we were to meet Michelle, Natasha's sister. We heard other sailors talking and they said it was always a good idea to stay a night or two in a marina when you have guests visiting, so they may ease into their sea legs. At the marina we took advantage of the marina pool and beach access. Shawn, Jax and I even got a take out pepperoni pizza from the marina gourmet store. It's funny some of the things you miss when you are on a boat.
We spent the next few days taking Michelle for sails and to the beaches all of us were accustomed to playing on. She, Steve and Natasha did some diving and snorkeling and I think she really enjoyed her visit. During her stay she slept in Jaxson's cabin on the shark sheets he picked out for her. Jaxson was very excited for someone to visit and hopefully did not drive her too crazy.
One day we gave the Smith's a break and Shawn and I took Jaxson for special movie day. Provo is the first place we have been to since we left Ft. Lauderdale that had a movie theater. We hitched to the theater and luckily found a movie Jaxson could watch. Mr. Peabody and Sherman was playing and we all enjoyed the movie, soda and pop corn. While we were out walking around I found Fedex Station, PLSA and I couldn't resist a visit. I spoke with the manager and talked of my 21 years in Ky and how life at Fedex on Turks and Caicos was definitely different than in the states. I met the two couriers that service the entire island and the service agents that cover the counter.
We ventured to the other side of the island and to Grace Bay where we found a nice beach and a playground for Jaxson . We ended the day at Shark Bite Grill where I really wanted to buy Jax a souvenir shirt but they were out of this size.
West Caicos was our next destination where we picked up a mooring ball and had better protection from the weather coming in. There was not much to see in West Caicos as of now it is currently uninhabited. There are some very large hotels and developments in various stages of completion but all work has stopped for now. We sailed along avoiding the weather and anchored back down below Provo in a bay called Boggy Cove. This was to be our stepping stone to sail to Grand Turks Island and Salt Cay.
Bugaloo's Conch Crawl was a local dining experience we were not to miss. Steve and Tasha had taken Michelle there on her visit and suggested we all go back. It was a hoot. There are tables outside entwined with the trees and set on the beach. A local band plays music and later in the evening there are fire eaters and dancers. We drank beer and enjoyed the famous rum punches and the general fun island vibe.
Grand Turks Island is the largest of the Turks Islands and it the capitol of the Turks and Caicos. Grand Turk gained international attention in 1962 when John Glenn's Friendship 7 Mercury spacecraft landed in the vicinity of Grand Turk Island off the southeast shoreline. The center of the island has salt ponds and still produced salt until around 1964. Cockburn town has some interesting architecture and Shawn and I enjoyed seeing it. There is a large cruise ship dock on the island and it plays host to cruise ships several times a week. Shawn and I visited the Turks and Caicos Museum and learned about a very old ship wreck on the Molassas Reef where they found a ship called a Caravelle dating back to the 1500's. Some conjectured that it was one of Columbus's ships but there was no proof. We ventured down to where the cruise ships dock and shared a cheese burger in paradise and a margarita in Margaritaville but I was really not that impressed. Sorry Jimmy.
We left Grand Turks for Salt Cay and as soon as we anchored, Steve, Tasha and I went for a dive on the wall. It was a little late in the day and the colors were not as vivid as an earlier dive would have been but I still throughly enjoyed it. To round out the day Stephen and I went for a night dive that evening. There was a small coral reef close to the boat and not too deep for me to be comfortable with my first night dive. As soon as I got in the water and turned on my flashlight I had some small shrimp-like fish that were attracted to the light. They stayed with me throughout the dive bumping into one another and my hand and arm. I was fine with the shrimp following me as long as nothing else bigger came to eat them. We followed a turtle that let us observe his night swim routine.
Our intention is to start heading to the Dominican Republic next but first we have to head back to Providenciales to check out. South Caicos is a nice stopping point and in a protected Bay. We have been really watching the weather and dodging high winds to go to areas that will be comfortable. When I say we it's actually Stephen that does all of the weather watching and guides us to the places we want to go and the places we need to go in order to stay safe and comfortable on the boat. Currently we are in South Caicos. While outside our anchorage area the waves are rough and the wind is high we are quite comfy. We will wait out the weather here and maybe set sail again Sunday morning. In the meantime today we are enjoying swimming and using internet at a hotel on the island called Ocean Beach Resort. Even though we are not staying in the hotel the proprietor has been gracious enough to let us swim in the pool and surf the net.
I have enjoyed the Turks and Caicos Islands as we were not sure we would get to visit them. It was not quite in the plans and the fee for visiting was not cheap. I am glad we stopped and traveled these islands but I am looking forward to The Dominican Republic and Puerto Rico.